Natural Actives Facial Oil
Regular price
Sale price
$13.26
Unit price
per
Sale
Sold out
Cher-Mere Natural Actives Facial Oil with antioxidant Vitamin Rich Avocado; Omegas 3, 6, 9 laden Hemp and detoxifying, calming Lavender may be the secret for fabulous looking skin. 
It is an ideal choice for dehydrated skin or dry patches on the skin left by wearing the face mask.  It keeps the skin hydrated, protected from the harmful effect of UV rays, rolls back environmental water-stripping of the skin, boosts elasticity and collagen. This product maybe used daily after cleansing and toning and before using a moisturizer.

Ingredients
Prunus Dulcis (Almond), Cannabis Sativa (Hemp), Persia Americana (Avocado), Rosemarinus Officinales (Rosemary), Lavandula Augustifolia (Lavender oil).
It is 100% Pure and Natural.
Directions: Massage a few drops into previously cleansed and toned skin.

Share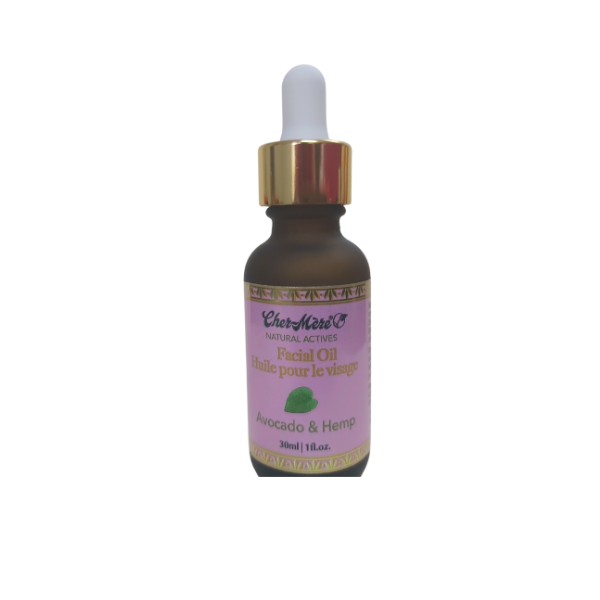 The best
I love this oil. My colleague bought it for me from Trinidad. Wow I use it on my hair that has been so stubborn to grow after chemo. It works wonders. I love the fact that your products are organic. Chèr mère merci
The best
My girl friend bought this for from your T&T location wow. I love love this I use it in my hair due to difficulties after under going chemo treatment. I am vouching for your products. Very organic and work nice on my skin and hair. I know it is not for hair but guess what it works marvelously. I am about to buy some of your other products. Thank you Chèr mère
Cher-Mère products are natural, herbal, and eco-friendly.
The Cher-Mère brand supports over 40 products for skin, hair, and body because we want to guarantee a wonderful product experience for everyone – and we believe that starts with tailoring the product to you. Our vision is to make products for people of all ages and skin tones – inspired by the mosaic of Caribbean people.

Our products do the job, honey — they feel incredible and give you results which keep skin and hair moisturized and healthy.

We hope that you join our Cher-Mère family!
All Natural

No Animal Testing

Eco-Friendly

No Harsh Chemicals
The best
I love this oil. My colleague bought it for me from Trinidad. Wow I use it on my hair that has been so stubborn to grow after chemo. It works wonders. I love the fact that your products are organic. Chèr mère merci
The best
My girl friend bought this for from your T&T location wow. I love love this I use it in my hair due to difficulties after under going chemo treatment. I am vouching for your products. Very organic and work nice on my skin and hair. I know it is not for hair but guess what it works marvelously. I am about to buy some of your other products. Thank you Chèr mère