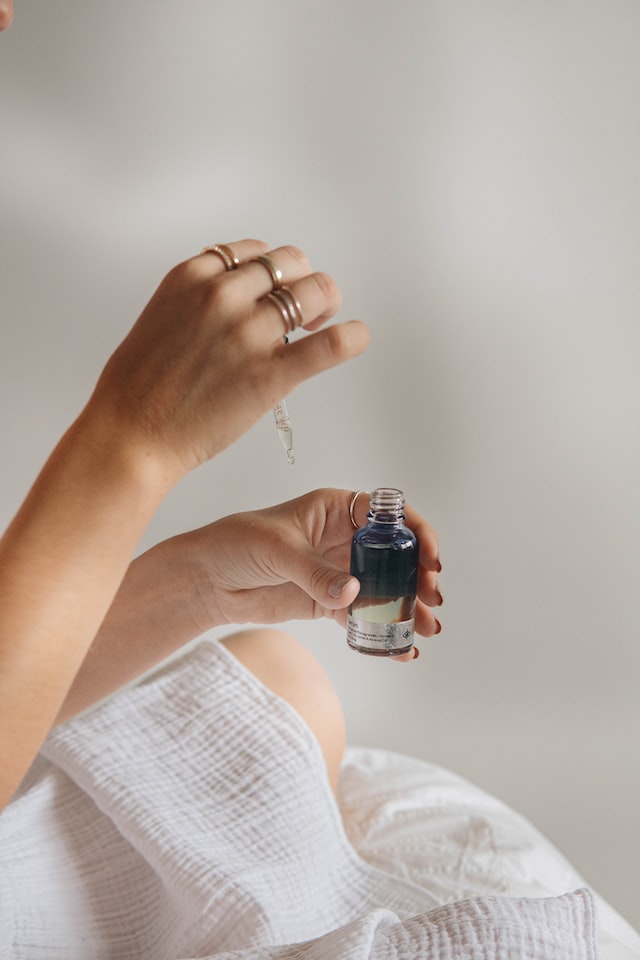 How to develop your nighttime skincare routine (for every skin type!)
The concept of "beauty sleep" isn't a myth - when you sleep, your skin gets a chance to reset and repair while taking a break from environmental skin damage. Getting a good 7-9 hours of shut-eye is essential if you want to wake up in the morning with fresh, glowing skin. 
Plus, any skincare products you use before bedtime will be even more effective when you sleep. This is because serums, lotions and creams are able to penetrate the skin more easily when they're not being disrupted by make-up or pollution. But picking the right skincare products for your skin type is just as important as getting a good night's rest. 
Whether you're acne-prone or suffer with skin dryness, we've created the ultimate guide to creating the best nighttime skincare routine. With product recommendations and expert tips, we've covered everything to help you achieve that natural, dewy morning glow. 
So - how do you create the perfect nighttime skincare routine? Let's take a look.
How to develop your nighttime skincare routine (for every skin type!)
Remove make-up
Sleeping in your make-up is one of the worst things you can do for your skin. (If you don't wear make-up, you can skip straight to step two.) Not only will it clog your pores and cause pimples, but sleeping with your make-up on can also accelerate the aging process. 
How? When make-up is left on the skin, it breaks down the skin's natural collagen. Collagen is an essential protein in the body which determines the skin's elasticity and suppleness; without it, your skin is prone to wrinkles, free radical damage and fine lines.
So, your first step in any nighttime skincare routine should always be to remove your make-up. We'd recommend using something like the Cher-Mere Natural Actives Makeup Remover. Enriched with Lavender & Shea Butter this makeup remover is a non-greasy plant-based product that gently and effectively removes makeup, impurities and environmental pollutants to ensure the skin stays healthy.
Cleanse your skin (yes, again!)
That's right, we always recommend double-cleansing the skin at night: first with make-up remover, then with a cleanser designed for your skin type.
Why? It's simple - a make-up remover is only going to do one job: take your make-up off. But a make-up remover alone isn't going to nourish or brighten the skin, clear bacteria or clear out impurities from your pores. For extra cleansing benefits, you should opt for a cleanser best suited to your skin type. 
Best cleanser for acne-prone and oily skin: For those with oily or acne-prone skin, we'd recommend a cleanser that uses antiseptic ingredients such as tea-tree or charcoal. Our Charcoal face wash uses a combination of clay, charcoal and soothing aloe vera to clarify and purify the skin, getting rid of any impurities and preventing any lingering bacteria from forming pimples on the skin.
Best cleanser for dry skin: To avoid stripping your skin and finishing with a tight, flaky complexion, dry skin types should always opt for a gentle cleanser, preferably one with nourishing, antioxidant properties. We designed our Chocolatte Face Wash with dry skin in mind, using an antioxidant formula with ingredients derived from rich Trinidadian Cocoa. It's almost good enough to eat - but please don't! 
Best cleanser for normal skin: If you have normal skin, you should use a cleanser that nourishes and brightens your complexion. Enriched with aloe, tea tree, and grapefruit, our Moringa Cleanser is glowing morning skin in a bottle and ideal for normal skin types. If you like to switch up cleansers during the month, we'd recommend using our Moringa Cleanser during any periods of hormonal acne - the cleanser is enriched with pimple-fighting tea-tree, so it'll help you stay blemish-free even during *that* time of the month.
Cher-Mère top tips for cleansing:

When cleansing the skin, don't use hot water. Use lukewarm or room temperature water - this will help balance your skin's pH and won't dry out the skin. 

Work your cleanser into your face for around 60 seconds to allow the ingredients to penetrate into the skin. Avoid using abrasive movements.
Apply toner
Toner is the pineapple on pizza of the skincare world - either you hate it, or you can't live without it! At Cher Mère, we love a good toner. Using a toner prevents any lingering make-up or dirt from remaining on your skin overnight, while also providing unique skincare benefits.
A good toner can also balance an unstable skin pH, so it can even help tackle everything from dryness to acne. The key is choosing a toner that works for your skin type.  
Best toner for oily and acne-prone skin: Oily skin types should look for natural, pimple-busting, and antiseptic ingredients when choosing a toner. Our Toner 3 is designed specifically to balance and purify acne-prone skin, using two powerful antiseptic herbs, Sage and Golden seal. And of course, our formula is also enriched with antioxidant and antibacterial Tea Tree oil, to help clear up any existing blemishes. 
Best toner for dry skin: Using soothing lavender and chamomile, our Toner 2 helps rejuvenate skin that is sensitive, flaky or dry. Our alcohol-free formula won't dry out the skin further, and will instead rebalance your skin pH using natural ingredients. 
Best toner for normal or combination skin: If you have combination skin, it can be tricky to find a toner that won't worsen your skin problems. Our Toner 1 helps control oil production with witch hazel, while the lemon oil soothes and balances the skin - perfect for combination skin types!
Cher-Mère top tips for toning:
Using a cotton pad can end up wasting product and potentially transferring bacteria back onto your skin. Here's our secret tip for applying toner: squeeze some product into the palm of your hand and use your fingertips to pat it (gently) onto the face. 
Pick a serum or an overnight treatment
Arguably, the most important skincare products in your nighttime routine are going to be those that aren't washed off. Overnight products such as serums, oils and moisturizers will be the products making the biggest difference to your skin, and that's why it's important to do some research before choosing a nightly treatment.
Picking an overnight treatment
Prioritize antiseptic and oil-controlling ingredients such as goldenseal and tea tree.

Don't shy away from facial oils - they're light on the skin and some can help control your skin's natural oil production. Cher-Mère

Natural Actives Facial Oil

with antioxidant Vitamin Rich Avocado; Omegas 3, 6, 9 laden Hemp and detoxifying, calming Lavender may be the secret for fabulous looking skin.
Moisturize
Once you've applied a nightly serum or oil, you need to seal the deal with a high-quality nighttime moisturizer. Your moisturizer is incredibly important, as you need to replace all the natural oils that were stripped from your skin during the cleansing process. 
Best moisturizer for oily or acne-prone skin: To keep blemishes at bay, you want to use a moisturizer that uses anti-inflammatory and antiseptic ingredients. Our Acne Manager Night Care uses Golden Seal, Tea Tree and Sage to fight off impurities and have you waking up with clear, smooth skin. 
Best moisturizer for  oily or dry skin: For those with dry skin (including mature skin), our Natural Actives Rejuvenate Night Cream uses coconut oil and shea butter to plump up the skin and provide long-lasting hydration. Elasticity-boosting, this moisturizer is perfect for decreasing the appearance of wrinkles and other imperfections. 
 Cher-Mère top tips for moisturizing:

Did you know that applying moisturizer to a slightly damp face increases the moisturizer's efficiency? For optimal results, apply your moisturizer directly after toning or using a facial oil. 
Anti-aging boost
If you have mature skin, you can also give your skin a boost at night by using a neck cream. 
Your neck is one of the first parts of your body to show signs of aging, so using a neck cream can reduce the appearance of fine or sagging skin. 
Our Anti-Aging Neck Booster uses marine and plant botanicals to offer extreme hydration to the delicate neck area, reducing signs of aging and supporting the skin's natural collagen. You can apply this to the neck and decollete every evening before bed for a hydration boost and smoother, more supple skin. 
Apply an eye cream
Your undereye area is super delicate and one of the first areas on your face to show signs of aging. It's also the first area of your face where tiredness and puffiness will show up.
To keep your eye area bright and smooth, use an eye cream or eye serum as the last step in your nighttime skincare routine.
For tired, puffy eyes and dark circles: Our Anti-Puff and Dark Circle Serum is the perfect way to hide evidence of any late nights or long weekends! The organic formula is enriched with skin-enhancing Vitamin E and a mix of essential oils to rejuvenate, brighten and wake up a dull eye area. You can use this eye cream in your morning skincare routine, too. 
For fine lines and wrinkles: To improve the appearance of any signs of aging, our Anti-Wrinkle Eye Lotion uses marine botanicals and vitamins to plump up and nourish the skin. Use before bedtime to reduce the appearance of fine lines and wrinkles, and aid your body's natural heal and repair process while you sleep. 
Use a weekly mask or intensive treatment
We all deserve a bit of TLC now and again, and so does your skin! Once a week, we'd recommend using an overnight mask as part of your nighttime skincare routine. 
An intensive overnight treatment is a great way to give your skin a quick boost while tackling any skincare issues that you might have. 
Best weekly mask for oily skin: Moringa clarifying clay mask or Aloe and Oatmeal purifying mask. 
Best weekly mask for dry skin: Hydrating treatment, such as with our Chocolatte Mask. 
Best weekly mask for acne skin: Purifying treatment with our Charcoal Mask. 
If you want a more intense treatment, you can always pop into our Cher Mère spa in Kingston. Treat yourself to some pampering with one of our face treatments, from microdermabrasion to dermaplaning. Regular facials will help keep your skin healthy and nourished, while creating a flawless base for make-up application. You can book your facial here.  
Pick the right pillow 
Wait, what? No, really - did you know that your pillowcase is a breeding ground for bacteria? Dead skin cells, debris from your skincare routine, and your natural face oils can all linger on your pillow and clog your pores. 
Plus, cotton pillows are known to cause skin friction, which can lead to premature lines and wrinkles. They can also cause hair breakage and frizz.
We'd recommend using a satin or pure silk pillow for your beauty sleep - you can find affordable silk pillows online in various styles and colors. Silk and satin are both non-abrasive, and are recommended by beauty experts for better skin and hair.  
Nighttime Skincare Routine: FAQS:
What happens if I sleep with make-up on?
Sleeping with your make-up on breaks down the collagen in your skin and can accelerate the aging process. It also causes dry skin and clogged pores, so always take your make-up off before bed. 
How long should my nighttime skincare routine be?
Your nighttime skincare routine should include at least the following three steps: make-up removal, cleansing, moisturizing. Preferably, you'd also tone the skin and add in an overnight treatment.
Is it necessary to double cleanse everyday?
Double cleansing is the best way to ensure you remove your make-up while also nourishing the skin. 
Should I do my skincare routine before bed?
To avoid your skincare products rubbing off, it's a good idea to perform your nighttime skincare routine right before going to bed.