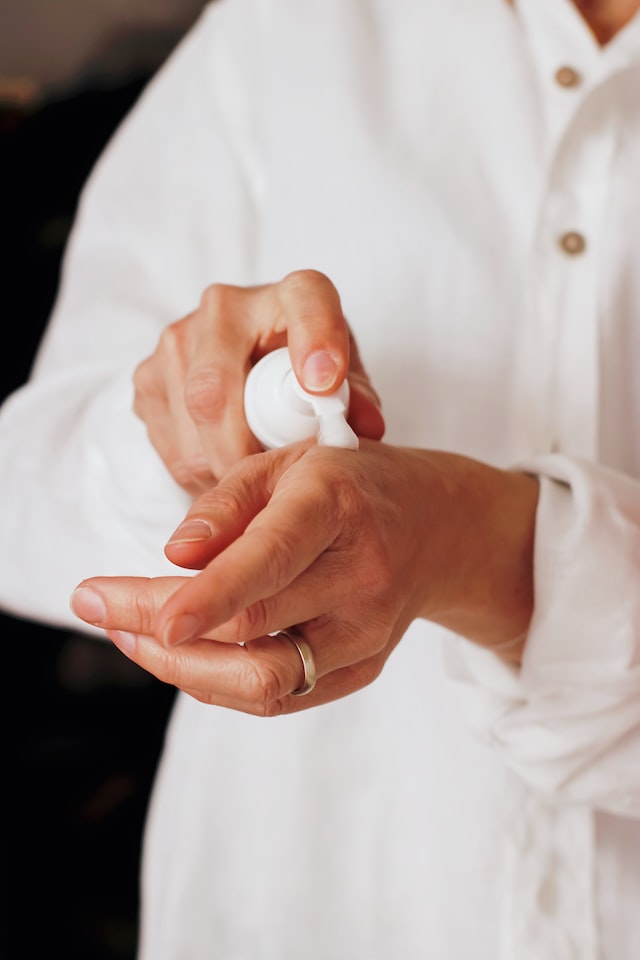 The Ultimate Skincare Routine for Dry Skin
Do you have any of the following?
- Tight Skin
- Itchy Skin
- Cracking skin
- Skin that feels and looks rough
- Slight to severe flaking skin, which causes the ashy look that can affect dry brown and black skin
- Slight to severe scaling or peeling
- Fine lines or cracks
- Skin that ranges from reddish on white skin to grayish on brown and black skin
- Deep cracks that may bleed
If you do, you may have dry skin. Dry skin can be a real pain, especially in the winter months. If you're dealing with tight, itchy, or flaky skin, there are several methods that can help you achieve smooth, supple and soft skin in no time.

With the right skincare products and the right routine, dry skin doesn't have to bring you down. We have used our skincare and beauty expertise to show you a routine with tips that can help to keep your dry skin hydrated and moisturized.
The Ultimate Skincare Routine for Dry Skin
What is dry skin? 
If you have dry skin, you'll typically notice the following when it comes to your complexion:
Flakiness
Dry skin tends to flake off, so you might notice small, flaky patches on your skin. Not everybody with dry skin will have flakiness, but you might notice small scaly patches around your nose, T-zone or jawline. 
Tightness
Whenever dry skin comes into contact with water, you'll notice that your skin will feel tight and dry afterwards. This is because the contact with the water stripped your skin's natural oils (which, if you have naturally dry skin, were already few to begin with.) You'll typically notice tightness and dryness after cleansing your face, or after taking a hot shower. 
Itchiness
Some people with dry skin even report skin itchiness - this occurs when the skin is dehydrated. Although it can also be symptomatic of some sensitive skin conditions, such as eczema. 
What does dry skin look like?
Exaggerated lines 
When you have dry skin, you might notice that any blemishes or fine lines might appear more pronounced. This is because when the skin is adequately moisturized, it will be plumper, improving the appearance of any wrinkles, blemishes or lines. 
But don't worry - dry skin doesn't directly cause wrinkles, it just exaggerates their visibility. With adequate hydration, you can conceal any lines or blemishes easily. 
Dry patches 
If you have dry skin, you might notice dry patches when wearing make-up. This is because certain parts of your face will be more prone to dryness than others - typically the forehead and the nose. 
Even if your skin appears to be fully hydrated when applying your make-up, you will often notice dry patches pop up not long afterwards. This is because the make-up clings to the dry patches of skin, creating an uneven finish. 
What causes dry skin?
Low humidity.

When you're in a climate with low humidity, you might find that your skin dries out easier. Low humidity = lack of environmental moisture, often resulting in dry or rough-feeling skin. 

Cold weather.

Weather changes can cause dry skin, especially for those living in cold climates. High winds, freezing temperatures and low humidity can all contribute to skin dryness and irritation.

For more tips on winter skin, take a look at our guide

here

.

Hot water.

Hot water is one of the main everyday causes of dry skin. If you love taking scorching hot showers every day, you're most likely drying out your skin and stripping your face of its natural oils and sebum. 

Genetics

. Some people are simply more prone to skin dryness than others, and it's completely normal. 

Sensitive skin conditions

. People suffering with skin conditions such as eczema will often be more prone to dry skin, or even confuse their skin condition with dry skin. If you're not sure whether your dry skin is caused by environmental factors or 

Hormones

. As we get older, 

Medications

. Certain medications can reduce the body's production of sebum, resulting in dry skin. One of the most popular medications that causes dry skin is Accutane, the anti-acne prescription drug. 

Over Exfoliation

. While regular exfoliation is important, over-exfoliating your skin can perturb your skin's natural oil production. If you strip your skin of its natural oils every day (for example, by using a facial cleansing brush) you might find that your skin becomes dry and tight.
Not sure what skin type you are? You can take our test here to find out what skin type you are, and how best to treat your complexion.
Our Ultimate Skincare Routine for Dry Skin
Now that you understand a little bit more about why dry skin occurs, what's the best way to deal with it? First of all, you want to manage dry skin with natural skincare products. 
Choosing a cleanser for dry skin
When it comes to using a cleanser on dry skin, you'll want to pick something as gentle as possible. Overusing harsh ingredients on dry skin can dehydrate it further, so we'd always recommend using an oil cleanser, a foaming cleanser, or a gel cleanser, rather than a scrub.
What ingredients to look for
Rich, conditioning ingredients such as shea butter, coconut oil and aloe vera are great for cleansing dry skin. As they're naturally super hydrating, they won't strip the skin or leave it feeling red and irritated. 
Best cleansers for dry skin
At Cher Mere, we've formulated a number of cleansers for use on dry skin; these cleansers will remove make-up, impurities and bacteria without leaving your skin feeling tight and uncomfortable.
Natural Actives Makeup Remover  
Natural Actives Makeup Remover with Lavender & Shea Butter is a non-greasy plant- based product that gently and effectively removes makeup, impurities and environmental pollutants to ensure the skin stays healthy.
Once you've removed your make-up, it's important to give your skin another quick cleanse. Double cleansing ensures that no traces of make-up are left on the surface of the skin, and gives your skin double the skincare benefits.
Our chocolate face wash is designed to nourish dry skin, with a formula enriched with anti-oxidants derived from Trinidadian Cocoa. Most importantly, it's gentle on the skin - your skin will be left feeling supple, smooth and clean after use. 
Choosing a toner for dry skin
Toners aren't always a necessary step in every skincare routine. However, toning the skin after cleansing will give your skin a glowy, refreshed finish. That being said, toners can be drying on the skin, so it's important to pick the right formula. 
What ingredients to use
Many toners use drying ingredients such as alcohol in their formulas. If you have dry skin, you should categorically avoid any formulas that include alcohol - instead opt for herbal ingredients, antioxidants and natural essences.
At Cher Mere, we've designed a one-size-fits-all toner for dry skin types, suitable even those who suffer from skin sensitivities. Our Toner 2 is enriched with soothing chamomile and lavender, which refreshes and balances skin without irritating it. You should use this toner following a double cleanse for the best results.
Choosing a moisturizer for dry skin
When it comes to picking a moisturizer for dry skin, we'd recommend using rich, natural ingredients to nourish your complexion and provide long-lasting hydration. 
What ingredients to look for
Ingredients such as cocoa butter, coconut oil and other essential oils are great for dry skin. These natural ingredients offer intense moisture and hydration, along with lots of other antioxidant skincare benefits.
Best day moisturizer for dry skin
Your skin needs to protect its natural barrier during the day; weather, pollution, exercise, and other environmental factors can all dry out your skin while you're out and about. Our Protector Cream is designed to enforce your skin's natural barrier, so you can get on with your day without having to re-apply moisturizer every few hours.
Formulated with pH-balancing glycerine and skin conditioners such as aloe vera, cocoa butter and honey, Protector cream is your skin's best defense against harsh weather. You can use this moisturizer during the day and at night for extra hydration. If you don't typically have dry skin but develop dryness during winter, this cream will get your skin back on track.  
Best night moisturizer for dry skin
It's important to use a rich moisturizer at night when you have dry skin. Environmental factors (such as air conditioning or cooler nighttime temperatures) can mean that your skin becomes more easily dehydrated during the night. 
Our Natural Actives Rejuvenate Night Cream offers both intense hydration and overnight revitalizing benefits; enriched with ceramides and formulated with rich cocoa butter, you'll wake up with skin that is smooth, refreshed and entirely rejuvenated. 
Facial Oil
Cher-Mère Natural Actives Facial Oil with antioxidant Vitamin Rich Avocado; Omegas 3, 6, 9 laden Hemp and detoxifying, calming Lavender may be the secret for fabulous looking skin.
It is an ideal choice for dehydrated skin or dry patches on the skin that keeps the skin hydrated, protected from the harmful effect of UV rays, rolls back environmental water-stripping of the skin, boosts elasticity and collagen. This product may be used daily after cleansing and toning and before using a moisturizer. 
Picking a sunscreen for dry skin
Just because you have dry skin, it doesn't mean you don't need to worry about sun damage. In fact, dry skin can exaggerate the look of fine lines and wrinkles, so it's even more important to ensure that your skin is protected from the sun's harmful UV rays. 
Our SPF30 daily moisturizer offers sun protection while hydrating the skin with a mix of shea butter and aloe vera. Most importantly, it's a non-greasy formula. You can apply this moisturizer and create an oil-free, non-greasy base for make-up. 
Anti-Aging Products for Dry Skin
As we explained above, dry skin can exaggerate the appearance of fine lines and wrinkles on the skin. This is because fine lines and wrinkles need plump skin and adequate moisture in order to be less visible.  
If you're worried about the appearance of fine lines and wrinkles, we'd recommend using some anti-aging products in your nighttime skincare routine, alongside a rich moisturizer (such as our Protector Cream.)
Our Anti-Wrinkle Eye Lotion will help plump up the delicate eye area with a herbal mix of lavender oil, sea moss and that all-important Vitamin E. If you also notice dry skin on other parts of your body, such as your neck or decollete area, you can use our anti-aging neck booster: a cream infused with marine and plant botanicals to lift sagging skin and help reduce the appearance of wrinkles.
Best face masks for dry skin
When it comes to using face masks, many clay or charcoal based formulas can seriously dehydrate the skin. To combat this, we created a clay mask designed for dry and sensitive skin types: our Chocolatte Mask uses clay alongside rich Trinidian cocoa to nourish dry and sensitive skin, leaving you with a refreshed, revitalized and non-irritated complexion.
We'd recommend using this mask just once a week for optimal results, preferably after using our chocolatte cleanser. 
Managing Dry Skin: Tips and Tricks
To keep dry skin healthy and nourished, a combination of a good skincare routine and good habits will make all the difference. 
Natural and herbal skincare ingredients are best when it comes to dry skin - that's why we use them in all of our dry skin range products. Prioritize these when creating a routine that works for you.
Last of all, make sure to take extra care of your skin during the winter months, and don't forget that hydration also begins within - so make sure to drink lots of water alongside performing your skincare routine every day.
So, you've got the right skincare products. But how else can you take care of dry skin, and how can you avoid sensitive flare-ups? Here are our top tips at keeping dry skin healthy and nourished, from the team at Cher-Mère:
Use a humidifier.

If your home is equipped with central heating during the winter months, buying a humidifier can prevent the low humidity from drying out your skin. 

Always read the label when buying skincare products

. Try to avoid drying ingredients such as alcohol.

Avoid hot showers.

Hot water can strip dry skin of its essential oils - switch to lukewarm water where possible.

Don't over exfoliate your skin

. Over Exfoliation can also strip the skin, so exfoliate every 3-4 days.

Add omega-rich foods to your diet

. Your diet will have an impact - either positive or negative - on your skin. We'd recommend incorporating foods that are rich in omega 3s to help aid natural skin hydration, as well as foods high in natural antioxidants. Foods such as berries, carrots, salmon, lentils, tomatoes and blueberries are all known to aid skin health.  

Check with a dermatologist

to see if you have any skin sensitivities or allergies.

Avoid soaps.

Use oil-based gels or nourishing cleansing creams instead. 

Don't use facial brushes

. While facial brushes can help exfoliate the skin, we wouldn't recommend using these tools on dry skin. Abrasive exfoliation can damage the skin and dry it out further, especially when using tools that are designed for daily use. 

Moisturize your skin several times a day

. You don't need to stick to twice-a-day when it comes to moisturizing your skin. You can apply moisturizer as often as you need, especially during the winter months. If you wear make-up

Use fragrance-free detergents

. Certain fragrances can worsen dry skin. To avoid this, always use fragrance-free detergents when washing your clothes.

Use a primer to prevent make-up from sticking to any dry patches

. Foundation, powder and other make-up will cling to dry patches more easily if you have dry skin. To avoid this, use a hydrating primer after applying moisturizer and sunscreen, allowing it to sink into your skin for around five minutes.
What treatments exist for dry skin?
At Cher-Mère, we offer several facials such as our Anti-aging Facial, Aromatherapy and Hydrogelly Facials designed to soothe, treat and hydrate dry skin. We use a deep cleanse, an exfoliation treatment, deep steaming and pore cleansing to reduce sebum, remove bacteria and restore a healthy skin pH to the skin. You can find out more about these facials here.